Medieval Heroes II
1.52
a strategy game, based on the board game "Risk". Enjoy the high quality graphics and Heroes of M&M-style battles!
Last update
20 Mar. 2006
Licence
Free to try |

$14.95
OS Support
Mobile
Downloads
Total: 324 | Last week: 0
Ranking
#281 in Games
Publisher
Arcona Magi
Medieval Heroes II Publisher's Description
Medieval Heroes II is a game of empire building
and turn-based battles set in the Middle Ages.

As one of the medieval lords, you will engage in combat with surrounding provinces in an attempt to unite Medieval Europe under your leadership. Design and govern your army, engage in battles, build castles, spy on your enemies, and conquer their domains!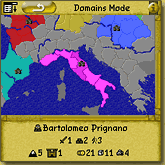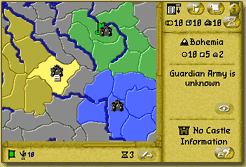 The game area consists of a great number of provinces. At the beginning, you control some of these provinces. Every province gives some resources (gold, metal and stone) to you.

You can spend collected resources on recruiting new troops and capture new territories with their help. You can use your special forces for scouting, robbing and assassinating your enemies.
You can also build castles, fortify them, and build additional buildings like markets or banks. During the game your hero will get experience and you can improve his skills.

Your goal is to unite all of the provinces under your control!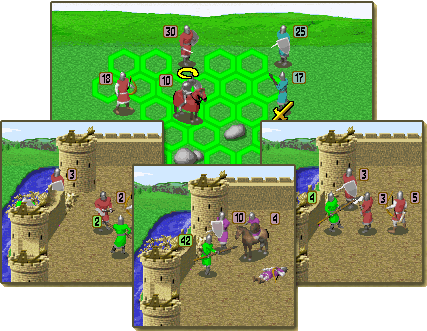 Features
5 missions with different map sizes
4 difficulty levels
10 types of units
Up to 6 players in the game
Hotseat multiplayer game
Turn-based battles (Heroes of Might & Magic-style)
RPG-style Skills and Experience points
Secret operations - Assasination, Robbery and Scouting
Ability to build castles and other structures like banks or markets
Ability to install additional missions
Hall Of Fame
High quality graphics and sound effects
Free Map Editor
High Resolution support (all modes)
System Requirements
PalmOS 5.0 or higher
8-bit or 16-bit color high resolution display
2.9 Mb of free storage memory or 3.4 Mb for version with additional music
New!
Official Map Pack for Medieval Heroes II is now available for purchase.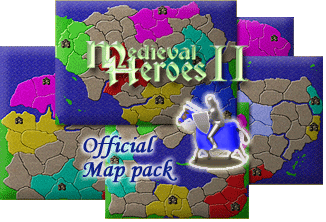 Version History
Version 1.51 (December, 24th 2005)
Version 1.50 (December, 2th 2005)
Changes in RPG-style character development system
New game preferences added
User interface improvements
New game registration system
AI improvements
Bugfixes
Many small changes
Version 1.20 (March, 10th 2005)
Hall Of Fame with game statistics
Multiple saved games
Minor AI improvements
Bugfixes and other minor changes
Version 1.15 (February, 10th 2005)
2 new missions (Northern Lands, Muscovy)
3 new units (Berserker, Maceman and Vityaz)
Major AI improvements
"Expert" difficulty level added
Code optimizations (faster graphics output in battles)
Smart "auto-off" mode added
Version 1.1 (January, 25th 2005)
New structures: Metal Mine and Stone Mine
Major AI improvements
Game Preferences: Sound volume controller added
Pictures of all units were added in the "Unit Info" (Recruit mode-Question button)
Support for Garmin iQue 3600 hires+ mode added
Version 1.01 (December, 13th 2004)
Some gameplay improvements
Some user interface improvements
Better T3 compatibility
Minor AI improvements
Sound volume has been reduced
Various bugfixes
Version 1.0 (December, 2nd 2004)
Look for Similar Items by Category
Feedback